Step By Step Guide Towards Placing Translation Order at Mars
By: Tahir Mehmood
Step By Step Guide Towards Placing Translation Order at Mars From Magento 1
We hope you are as excited as we are for our Magento extension. This extension enables you to get your online store translated within a few clicks.
This extension has now made the translation of your online product catalogue easier, more accurate and time saving. 
Just in case you are not sure as to how to proceed here is a step by step guide which will help you place your very first order.
Our extension provides translations in over 200 languages by a pool of certified native translating professionals. Now no need of uploading files or updating website manually. Simply select and send your products to our translators and import directly into your online store.
1. Get started by choosing your default settings
    Click the default setting and choose:
    - Service -  You will be provided with two options;
       Translation referring to our standard translation process
       Proofreading; your content will be thoroughly proofread after translation
    - Note for translator
       If you choose translation as your option, you can add a customized notes for the translator including instructions and specifications.
    - Industry
      You can choose the industry of your store.
2. Create a new project:
    You can conveniently create a new project by clicking the top right option of 'new project'.
3. Select Your Product(s):
    You will be provided with a list of your products. Choose the products to be translated. Click the drop down menu labelled as 'actions' and choose 'add'. You can choose as less as one product or as many as the entire product catalogue for translation.  Proceed by clicking on 'submit' at the top right corner.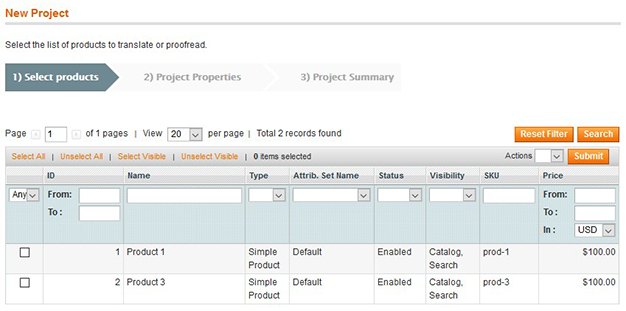 4. Choose Your Project properties:
    The settings choose as the default settings will appear as they are, however they can be changed at any given point. Select the product information you would like to get translated.
Proceed by choosing your source language and your target language. 
5. View Project Summary:
Continue to view your order summary.
Choose the option to view before you import.
Import your translations to have the translations incorporate into your store instantly. Enjoy your multilingual store.
You should be able to view your project, source language, target language, industry, package, price and word count. Once satisfied, confirm your summary.
6. Monitor your project:
See the real time status of your project by going back to the 'my projects' page where you will be able to monitor the progress of all your projects.
7. View and Import:
View your translation before you import them. Once satisfied, import your translations and get them incorporated into your store and go multilingual instantly.
8. Enjoy you multilingual store!
Explore a bigger niche market and infinite opportunities through your new multilingual store.