Top 10 Translation and Localization Companies
By: Shahzad Bashir
Any business that you start soon becomes a part of you. Like a child, you nurture it, help it grow, stand with it when it is through all the bumps and celebrate when it blossoms.  Your business is a piece of your heart and when you decide to go global, you want nothing but the very best for it. This is why we are listing our Translation and Localization Companies around the globe so you do not have to fret over the choices available.
From the plethora of translation companies, we have shortlisted these companies to make it easy for you to decide which of these is the most suitable for your business rather than surfing the web for hours. This comprehensive comparison has been formulated after extensive market research. We have compared the number, speed and quality of translation services, supported languages and work experience.
1. Babylon Professional Translation:
Babylon is perhaps the oldest service provider on our list. This company has been in the game for so long that people come to expect great things from them and so far they have managed to do that. The best thing about Babylon is that it is one of those companies that provide competitive rates and makes sure that the quality of the translation is amazingly high.
Like Gengo, they too have a crowdsourcing system and hire translators from all over the world. The translations are accurate and very consistent. Although it does not cater to all industries, Babylon does have expertise in legal, medical, business and technical translations. They also have a fast turnaround and the company also offers 24/7 around-the-clock customer services.
2. Mars Translation Services:
Mars Translation has quickly become one of the fastest-growing language translation service providers in the world. As one of the fastest growing companies, they make sure that their translators are up to date and have enough experience to provide the clients high quality, accurate and industry-specific translations. Mars Language Translators team consists of more than 5000 native speakers who have prior experience in providing quality services to clients all over the world.
Mars Translation Service Provider offers their services in more than 230+ languages and 22 industries. Mars Translation keeps its clients at a top priority and this is the reason why Mars Translation has more than 3000 language combinations.
While keeping the current market trends and business individual needs in mind, This Certified Translation Services Agency offers a combination of six services that can be applied and used in many industries and niche markets. The main aim of these services is to provide high-quality, accurate and industry-specific translations that will benefit your business and your current goals. Mars Translation provides Document Translation Services, Interpretation Services, Website Localization, Transcription services, DTP & File conversion services, Proofreading, Subtitles and Voice-Over services. Mars Translation Services also has API services and its own app for both android and IOS.
Plus, their rates are very affordable. Every project gets its own project manager and the client can remain up to date about his or her project through the online portal or the API service. Also, their quote system is really fast. The client can immediately see the complete price of the project and how long it will take for the project to be complete. Many of the projects are completed and sent on the same day. If the clients have larger projects and tight deadlines, Mars Translation can provide that.
3. Text Master:
Created in 2011, TextMaster is the leading professional translation service available entirely online. By combining advanced technology with a network of verified expert translators in over 50 languages, TextMaster is redefining how businesses handle translation.
Clients can access TextMaster through an online SaaS platform, API or a wide range of integrations and partners. More than 10,000 companies, from multinational corporations to SMBs, in 110 countries, trust TextMaster to optimize their translation workflow.
4. Alta Language Services:
ALTA has more than 30 years of experience providing language and cultural solutions to businesses, government agencies, and nonprofit organizations. Founded in 1980 as a language training company, Alta Language Services initially operated under the name "Southeast Language Associates." As the company grew, its services quickly expanded to include translations and language testing.
With that, Alta Language Services' client base expanded nationwide and they adopted the name "ALTA Language Services" in 1997. Employee-owned since 2011 and headquartered in Atlanta, ALTA has built strong relationships with language professionals worldwide. Alta Language Services is dedicated to providing quality service with a superior client experience.
5. One Hour Translation:
One Hour Translation provides high-quality professional human translation of over 75 languages and over 3000 language pairs. One Hour Translation are able to provide high-quality translations around the clock, any day, any time. They have 15,000 Professional Translators from over 100 different countries.
They specialize in providing business translations in different fields including legal, technical, websites, applications and software, marketing and more.
One Hour Translation are considered one of the fastest professional translation service in the world. Once a translator starts working on the translation, a countdown timer shows when the translation is going to be ready.
6. CinchTranslations:
CinchTranslations LLC provides complete professional translation services in more than 90 different languages. Their translation services cover a wide range of document types including legal, business, sales and marketing, human resources, and general document translation.
CinchTranslations translate a large variety of worldwide languages. They translate almost all document types and most languages. All of CinchTranslations translators have passed certification process and have at least 5 years of translation experience.
7. Click For Translation:
Within a short period of ClickForTranslation establishment in the translation industry they have achieved a huge reputation from their clients.
Click for translation is an ISO certified translation service company which offers language translation services to their clients from around the world. Client base is increasing every day that has gained them many new and repeated clients to their company and has put them on our top them list.
8. InWhatLanguage:
InWhatLanguage offers translation, interpretation and transcription services in more than 100 languages for people all over the world thanks to a wide network of professional native linguists who work for them from their respective countries, thus delivering high-quality, localized, up-to-date translations. 
To bring together this global community of linguistic talent, they have developed, Unify, a high class translation management software (TMS) that lets enterprises create, control, and manage all of their multilingual assets through their proprietary cloud based platform for accurate, fast translations at low cost.
9. One Planet:
One Planet certainly is one of the most cost effective companies on our list. Their services are very cost effective and they make sure that their services remain affordable by using CAT tools to the best of their abilities. And even though they are not as globally known as most of their competition, their services are solid and very efficient.
And unlike many of their peers, they provide services in many industries and domains. Plus, they have multiple languages in their gamut, which is saying something about a service that is not globally acknowledged. They not only offer SEO support, their technicians actually work with you to make sure that the localized translations One Planet provided are utilized to their full potential.
Their translations are on par and accurate. If a client requests something that is not mentioned in their offered services, One Planet actually provides the required service to the client in the said deadline. Plus, they also have an online portal that the clients can use to see the updates on their projects, submit more projects, and receive completed projects and request changes.
10. Net-Translators: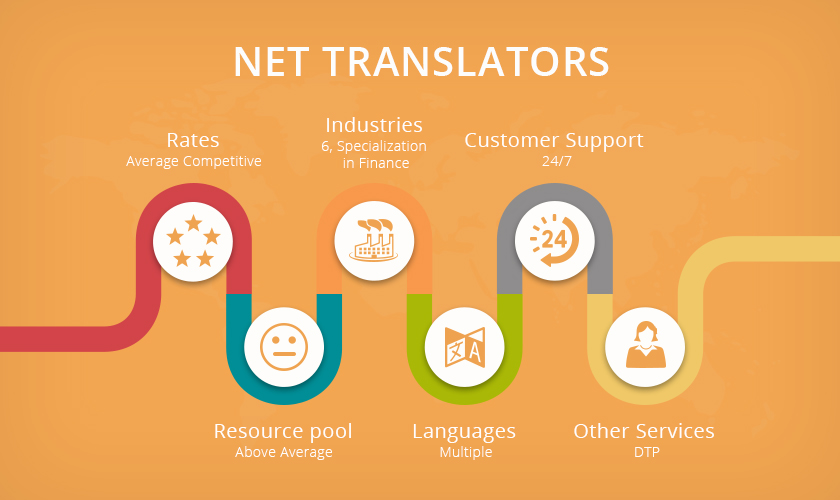 This is a language translation service that provides complete services to their clients. They localize the content, traditional translation and even provide SEO support to their clients. Their main domain of translation is mostly technical and they can help their clients with localizing the content. They mostly gyrate towards software translation other technical products like medical devices etc.
Again, this company is a little expensive and unlike others, their quotation process is also a little slow. Their team of translators is efficient and go out of their way to provide the best possible results. They provide their services in 60 languages, which compared to the giants of the industry is a little low. However, they do these languages justice and make sure that the quality of the translation is great.
They also offer certified translations to their clients in need, so they have a well-rounded repertoire.
Other Countries Top Translation Companies