10 Best Transcription Services Companies
By: Antonia Ava
What is the most important thing that you look for in a transcription company? The quality, flexible but fast turnaround times and, of course, being cost-effective for your business. Transcription is used for a variety of reasons; whether it's for capturing meetings or interviews or even to generate the best SEO practices for the video content, it's a basic requirement these days.
Since the market is flushed with a good number of companies, it's a hard choice to select one transcription company for the long run. There are many other factors to consider as well.
So when you decide to choose a transcription service company make sure that those companies are;
Fast and flexible turnaround times
Always have high accuracy results
Affordable costs for all projects
Flexible in approaching client's company
Selecting the right transcription service company means you need to make sure that it meets your requirements. Their ability to translate, transcribe and transcreate attracts a lot of entrepreneurs to hire them. Because it's such a daunting task, in this article top 10 transcription service companies' are listed to help you decide which one to choose.
Go Transcript
Founded in 2006, in Edinburgh, Scotland is one of the largest online translation agencies that is also known for its transcription services. The company provides exquisite services in terms of audio transcription. The primary focus is on the customers and transcribers (in-house teams) so that the final generated product is far higher in quality than expectations.
The team of transcribers pays a good load of effort in transcribing the videos. To maintain quality, they do use the transcription tools and meet the deadline. A proper system quality check is kept in mind as well.
The major services are provided to business sectors that include;
Audio transcription
Video transcription
Translation
Foreign subtitles
Captions
Mars Translation
Situated in Shenzhen, China, Mars Translation was established back in 2002. The company is known for its genuine reviews based on the translation and transcription services they provide to global businesses. The services given to clients are online while they maintain the portal of translators from different corners of the world. Mars Translation focuses on fast turnaround time and follows proper security protocols.
Their team of translators has an excellent eye for proofreading the content, focus on accuracy and precision too. Hence the reason behind how they can retain a client.
Their services cover almost every industry and are confident in providing translation services in more than 120 languages. Some of the major services also include;
Interpretation
Website localization
Transcription
DTP and file conversion, etc.
CCJK
This company made a name for itself when it was first established in 2000, in China. To provide a one-stop solution for the translation industry, CCJK offers translation and transcription services at competitive rates to all business sectors.
They provide affordable transcription and translation services to businesses indulged in their work to provide the best quality content in multi-languages. Before handing over their projects, they make sure to proofread the content to ensure no errors lurk in the background. The transcription services provided by CCJK are timely delivered, which makes them an ideal candidate.
Some of the major services they provide include:
Translation
Localization
Transcreation
Transcription
Editing
Interpretation
Transcription Outsourcing
Located in Denver, USA Transcription Outsourcing was founded in 2010. It is a transcription service provider that accommodates businesses only in the US time zone. To order a project, you need to record and the company will provide the transcription services for it.
The team of transcribers is committed to delivering reliable transcription services with 99% accuracy in fast turnaround time. They are well-known for their custom formatting and custom pricing as well. They make their clients feel welcome, and the customer representatives are easy to communicate with.
Since they cover primary industries, they offer services for;
Medical transcription
Legal transcription
Law enforcement transcription
Financial transcription
Academic transcription and many more
Scribie
Their story began in 2008 when CallGraph Skype Recorder got released as freeware. Located in San Francisco, USA, Scribie offers both manual and auto transcription services for its clients. They confidently produce a 99% accurate transcription copy with a 36 hour turnaround time.
They offer clean prices starting at just $0.10/minute for automated transcription and $0.80/minute for manual transcription. So if someone is not looking for a high accuracy transcription can have the option to choose the automated transcription services and vice versa.  Following are some of the factors that make it a go-to choice for many clients
Accuracy
Confidentiality
Convenient payment
Free re-review
Progress tracking.
Rev
With the motto "geography shouldn't dictate how people make a living", a transcription service provider established in 2010 with a shared network of freelancers from all over the world.
Rev is known for building and offering remote speech-to-text jobs for customers and freelancers from all over the world. The main aim was to enhance the learning experience. Their transcription services are FCC and ADA approved under section 508. Captions and titles are available for $1.25/minute. The transcribers use software to produce a seamless transcription, caption, and subtitle content. With the years of experience, they make a perfect match for the fast turnaround time at the lowest prices.
They offer a range of audio and video transcription services. It includes;
Captions
Subtitles
Translations
Transcribe Me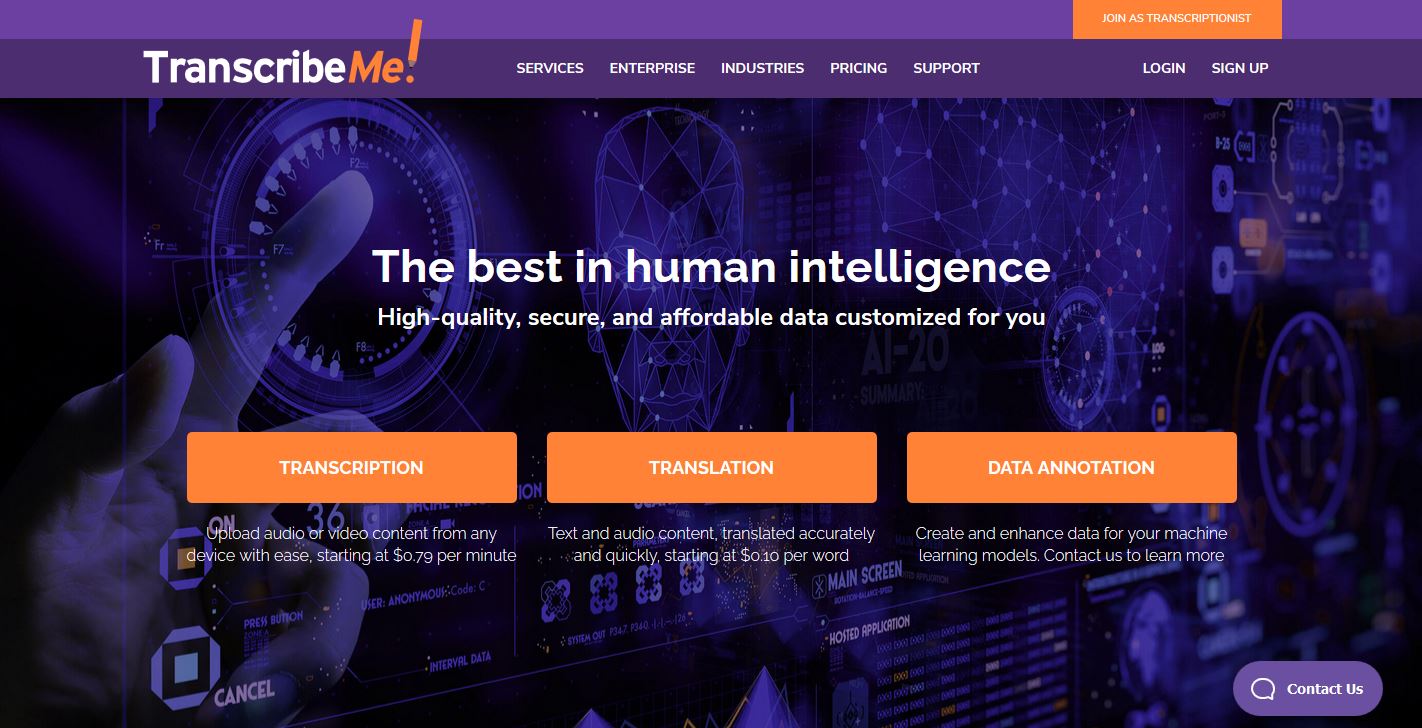 If you are looking for speedy transcription services at a low error rate, then Transcribe Me is the option for you. The main office is located in Oakland and therefore offers transcription services to global businesses. The transcription offered is accurate and comes at a reasonable budget. Thus the balance of price and accuracy is what attracts the clients to use their transcription services. Comparatively to Rev, it is not as fast, but it does meet the deadlines. The pricing starts at just $0.79/minute. So if you want an almost accurate answer to your transcription problems, Transcribe Me is the answer for you.
Moreover, the services they provide include;
Transcription
Speech recognition
Translation
Mobile apps
Data annotation
Transcription Panda
If you don't have time on your hands and require transcription for audio/video urgently, Transcription Panda is good to go.
Founded in 2016, situated in California, Transcription Panda operates in more than 5 countries. The transcription quality is consistent and high internal quality standards are strictly maintained. A thorough review of the transcribed video/audio is conducted before handing over to the clients. Their services are quite similar to that of Transcribe Me. For instance, the starting rate for both companies is $0.79/minute. However, in comparison, Transcription Panda has a faster transcription speed (despite the long turnaround). For an entire project, the offer for turnaround time is 5 days.
If a client is interested to get urgent transcription services, it can cost as high as $2.40/minute. Moreover, their services include;
Transcription
Translation
GMR Transcription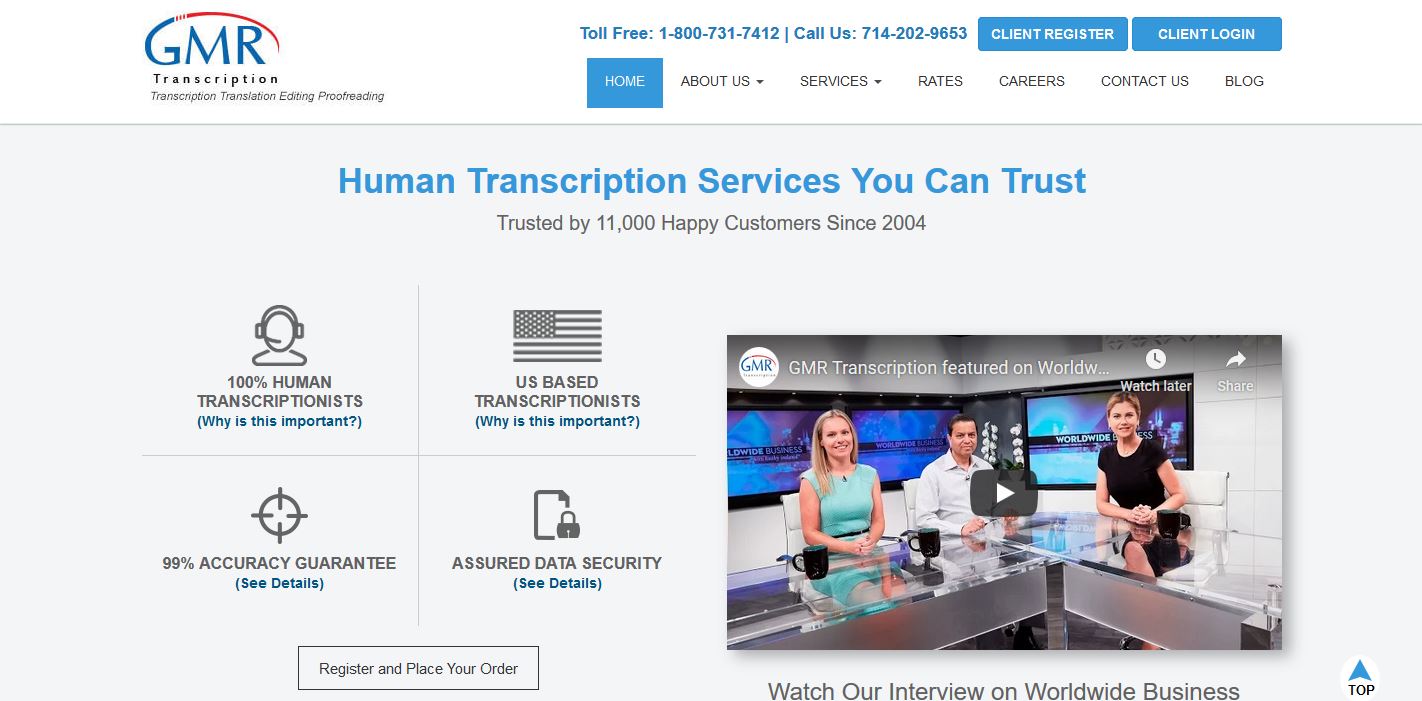 The company was founded in 2004 and is located in California. They strive to provide accurate transcription and translation services to its clients. They have transcribers and have worked on various projects from government institutions to non-profit organizations and so on.
The transcriber hired are all US-based and produce high accurate transcription content. With a quick turnaround time, their robots, artificial intelligence, and algorithms set precedence for their competitors. The transcribers have vast experience in legal terminologies, the medical field, and academia, etc.
Being a reliable international transcription service provider, their services include;
Transcription
Translation
Editing
Proofreading
Temi
If a translation company claims their services have been used by ESPN would you trust them? Turns out Temi offers automated voice transcription services to its clients and at affordable rates starting from just $0.25/minute!
The company claims an accuracy of around 90-95% (legit) with clear speakers, minimal accents, and background noise. Clients can download text files like MS Word or PDFs.
Clients can even record clear audio to get an accurate and high quality automated transcription. But how do you decide if this is the right choice? You can try Temi's free trial for one transcript that lasts within 45 minutes. A client will have access to all features and you do not even have to pay a dime.
Temi provides;
Proprietary algorithm
Simple editing tool
Review and edit
Custom timestamps
Speaker identification
Export transcript
Let's Wrap it!
One of the major benefits of choosing a transcription service provider is that you can represent your brand in multi-languages. A video with multilingual subtitles and captions can go a long way.
So, which of the above transcription service providers you think makes a perfect match for you?  Don't forget to visit the website and read the reviews too.
 A transcription service provider leaves a great deal of impact on a company's brand name and goodwill. So whatever decision you may come up with making sure it best meets your company's needs.