Why Insurance Companies Need Translation and Interpretation Services?
By: Salman Saeed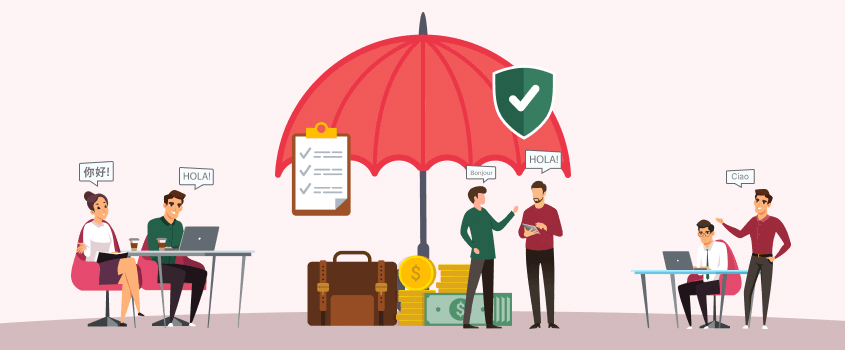 Due to globalization, people need to travel frequently to foreign countries. It can be for business purposes, higher education, and vocations. Whatever the purpose of your traveling is, you must secure yourself financially in a foreign land. Here the insurance services are of great help to you. They help you greatly if you face any unexpected accident. For instance, if you face any injury in a foreign land then you must go for medical insurance services. How can you understand insurance services in a foreign land because of language differences? For this, you must go for translation and interpretation services.
Difference Between Medical Translation and Medical Interpretation
Insurance services help to claim the money in case of an accident. Most often medical interpretation and medical translation are used interchangeably so people often confuse one with the other. Let's remove the ambiguity between the two. Hospitals and clinics use both the services of medical translations and interpreters. The main difference in both is the use of communication mediums. The translation is about converting the written content from one language to another whereas interpretation is about altering the language orally. Some skills are common in translators and interpreters. The important thing to keep in mind is that a good interpreter might not be a good translator and vice versa.
Interpreters must work with objectivity because they are independent in their work. This thing sometimes causes a problem for them especially when they are interpreting for family and friends. Interpreters should be bilingual but this cannot ensure their success.
Medical translators work differently from interpreters because they need to provide services in written form. Therefore translators must possess good written skills in the language in which they are required to provide services. In the translation process, you must read an original context, and find relevant equivalent words in the target market. Finally, you must edit and proofread the content. If you are working with a medical translator then it is recommended to take the opinion of a second translator to get error-free medical translation services.
How to Translate Medical Documents for Insurance Companies
Before going for medical document translation services, you must collect all the necessary documents in one place. They include hospital bills, medical check-ups, blood tests, and all the documents related to illness and injury. It is recommended to get a copy of each document to keep the medical record with yourself before giving it to the translation or insurance company. For the translation of medical documents, like medical claims you should not rely on software. For example, Google Translate will just give you an idea of the text. Therefore, for the best healthcare services at economic rates, you should not take risks for both your health and wealth.
The medical documents about health and insurance contain difficult words and phrases that cannot be translated by a simple translator. For this, the translator should be a subject matter expert in the medical field. Therefore, you must hire a professional translation company because they employ a subject matter expert after strict scrutiny. You cannot make your health and wealth prone to different software.
Interpretation and Translation Required for Medical Insurance
For the processing of medical insurance, translators and interpreters are required throughout the process. It includes
The early phase of contact with the client.
Translation of medical reports, assessments, affidavits, and witness statements.
Client Meetings
Investigations for diagnosis
Trials
To get the required coverage from the insurance company, you must take the assistance of a reliable translation company.
Information Needs to be Accurate Both in Law and Language
If you require medical assistance in a foreign language then a translator should have a complete understanding of the foreign language with the law of that country. A minute mistake will harm the entire process and you must bear a high cost. Moreover, the interpreter is also required to interpret the foreign country's law accurately. Additionally, they clear you regarding any ambiguities in understanding the law.
Happy Clients will Lead to Higher Retention Rates
When patients feel that they can rely on a specific insurance company then the next step is to look for translation and interpretation services. If the translation and interpretation services are not taken care of then people will not opt for your insurance policies. The health of the client and the growth of the insurance company are associated with impeccable translation and interpretation services.
The Role of Translation and Interpretation Services for Health Insurance
One of the worst things that one can come across in a foreign land is any ailment or unexpected accident. This one requires medical treatment. Not all of us can bear medical expenses in a foreign land. Moreover, it is not easy to understand insurance policies in a foreign land unless you understand their language. Here the translation and interpretation play an imperative role in making you understand the entire process and how to opt for it. Some hospitals don't start treatment until you give them proof of insurance coverage.
In this regard, the hospital administrator contacts the victims to know the worth of their coverage. In such a situation, you must take the assistance of a medical interpreter who can act as a mediator between the hospital and the insurance company. Moreover, a translator would assist in translating documents for the hospital and medical facility to start a relevant treatment and to know how much money would be needed. Moreover, the insurance company also asks for police reports and witness statements to know the validity of your case.
Importance of Health Insurance Translation Services
Although English is a universal language it does not mean that everyone can speak and understand English. The translation of health insurance documents for people who do not speak and understand English is a critical process and requires experience and expertise in this field. Initially, bilingual people used to work as a translator in the medical field. To work according to federal and state laws, medical insurance translation services are the most critical translation services for the healthcare system. LEP, low English proficiency people like to communicate in their language. Health insurance translation services are significant for LEP because in this way they can understand the cost and terminologies used in the treatment in the best way.
a) Health Insurance Translation Services Help you to Understand Medical Rights 
Usually, the terms used in medical documents and insurance policies are obscure even for native speakers of the country. By getting a health insurance translation service, people can become aware of their health rights and know how they can take better leverage from them. This applies to the entire healthcare system. There are many cases in which people are unable to interact properly with doctors and insurance companies. For example, if you are an ex-pat and you have been given health insurance from your company then you can understand the health facilities given to you only by health insurance translation services. On the other hand, health insurance companies also want their clients to understand the health privileges given to them. Therefore translation services in health insurance are pivotal.
b) Health Insurance Services are Used for the Welfare of People
Many welfare countries also want health care providers of their country to take the assistance of translation and interpretation services in their practices. This shows that a large number of populations depend on their services. In the USA, healthcare facilities are very expensive. Therefore people who have taken health insurance services can save a lot of money and enjoy great health privileges. According to one study, 25 million US citizens have low English proficiency. Therefore, if they claim medical insurance then they must go for health insurance translation services to make their process more professional and efficient. Translation services in the healthcare industry are considered ethical because they help to save the lives of people.
c) Insurance Companies give you Leverage in Many Ways
If the insurance companies take the assistance of professional medical translation agencies, then they are in a better position to understand federal and state laws and can abide by them. It will increase both their financial and administrative efficiency. For LEP clients, the translation agencies come with communication strategies that can resonate with customer requirements. On the other hand insurance companies can improve the quality of customer services and help to process the insurance services in minimal time.
If the insurance company has its website, then translating a website into multiple languages will help to increase the customer's enrollment and decrease expenses. Many insurance companies have included insurance forms online. People can understand and fill out the insurance forms if they are provided to them in their native languages. It will increase the information access and efficiency of the insurance firm. Over-the-phone interpreting can also increase the sales of the insurance company. In short, translation services will enhance the corporate image of the insurance company.
Miscommunication Prevented by Translation Services
One of the main reasons for the importance of medical translation services for insurance is to avoid miscommunication. Insurance companies are aware of the risks associated with wrong communication. The problems caused by errors in translation can result in lawsuits and the most dangerous part is the loss of health and death.
Do you know why miscommunication is in havoc in the medical insurance field? It is because of difficult terminologies used in medical and insurance. Therefore to have impeccable translation results one should hire a professional translation company.
Wrapping Up
The welfare states of the world take an interest in providing the best healthcare services to their citizens. Many people from developing countries also visit these states to get better health facilities. To mitigate the communication gap between medical health and insurance companies, translation and interpretation services are of great help. It will ease the work of all three parties, patients, medical care providers, and the insurance company. For this, you must hire a professional translation agency. It will help the medical practitioner to treat the patient with utmost care. On the other hand, it will help health insurance companies to enhance their efficiency.