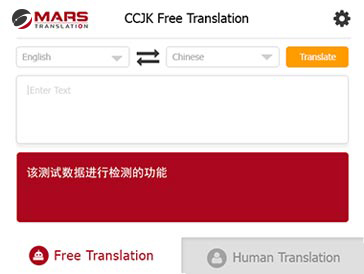 Free Translation
MT's free translation application provides you easy to use interface for translation with no Google dependency. You can easily translate your content within your browser. This extension provides you free machine translation into more than 30 languages, including the following:
Arabic
Bosnian
Bulgarian
Catalan
Chinese Simplified
Chinese Traditional
Croatian
Czech
Danish
Dutch
English
Estonian
Finnish
French
German
Greek
Hebrew
Hindi
Hungarian
Indonesian
Italian
Japanese
Korean
Latvian
Lithuanian
Malay
Maltese
Norwegian
Bokmal
Persian
Polish
Portuguese
Romanian
Russian
Serbian
Slovak
Slovenian
Spanish
Swedish
Thai
Turkish
Ukrainian
Urdu
Vietnamese
Welsh
Hmong
Download free extension for your browser now and enjoy translating.
Human Translation
Mars Translation extensions provide you an interface to submit your professional human translation requirements. We have been serving the translation industry since 2000 with more than 5000 professional translators. We have industry expert translators to better understand your content and deliver best quality translation services.